By: isupworld.com
SUP Review: Airis 11' HardTop SUV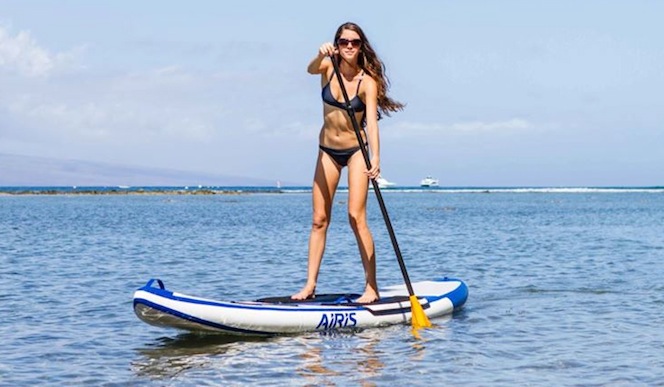 The Airis 11' HardTop SUV is a new model for 2013 and has some unique features that make it stand out.  Besides being well made it has fiberglass steps that add rigidity when paddling.
Quick Stats
Specs
11 feet long
31 inches wide
6 inches thick
weighs 26.5 lbs.
can hold up to 250 lbs.
has one large rear skeg
Material: This board uses the Walker Bay patented AirWeb construction which makes it stiffer and more rigid.
Pros: Rigid, unique fiberglass braces to stand on, stable, light weight and easy to travel with, comes with awesome deluxe backpack/carry bag, bungee tie down cords at bow and stern
Cons: Not super speedy.
More In-Depth Info
I was pretty psyched to try out this board as I knew how good the Airis line of inflatable kayaks were. Their ISUP's are made with the same AirWeb construction as the kayaks, which creates a very rigid product.
I knew their lineup of inflatable boards would be well made but I was curious with how well they would perform.
The 11′ HardTop SUV is the most versatile of their SUP models and great for beginners to intermediate riders.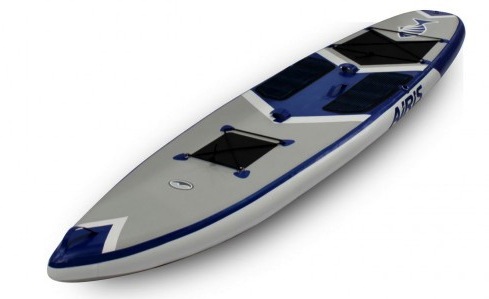 My First Impressions
My first impression was likely the same as everyone else's if you have ever tried an ISUP before… the HardTop SUV is unique.
Not only does it inflate to a rigid air pressure but it also has fiberglass steps to place your feet on that make you feel like you are paddling a fiberglass board.
The concept in my opinion is fascinating. Take an inflatable SUP, make sure the construction is solid and that it inflates to a rigid air pressure then add some fiberglass plates to enhance the rigidity and performance of the board. No other ISUP manufacturer has done this.
The plates do add a little weight and a little bulk when rolling the board back up into the carry bag.  However they are still a nice feature and overall the board paddles quite well.
Set-Up
Similar to most ISUP's, with one main air chamber, the set-up is a snap.
Take it out of its carry bag, unroll, and inflate. It comes with a good high-pressure hand pump.  Or to save a little time you could invest in an electric pump which inflates the board in a matter of one or two minutes.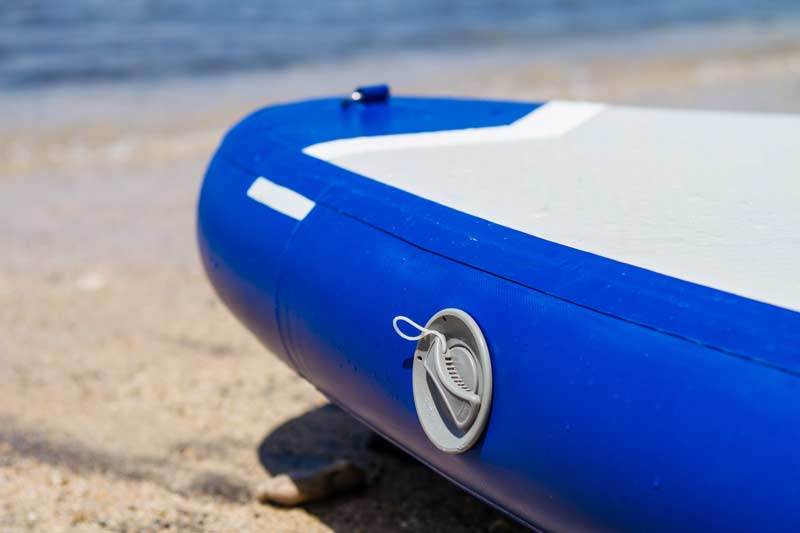 Performance
As mentioned before I really like the length of an 11' board.
It has enough length to be good for touring but still be compact enough to maneuver easily and handle well.
It tracks well, glides nicely through the water, and handles a little chop in the water with ease.  I don't find that it moves all that fast, but overall the performance is good.
The 6" thickness makes it ultra stable.  The extra thickness makes it ideal for people of all shapes, sizes as well as age groups.
Beginners will appreciate the extra thickness and stability as it makes for a more secure ride.
I find the 6" boards to be far more secure feeling when in ocean waves as well.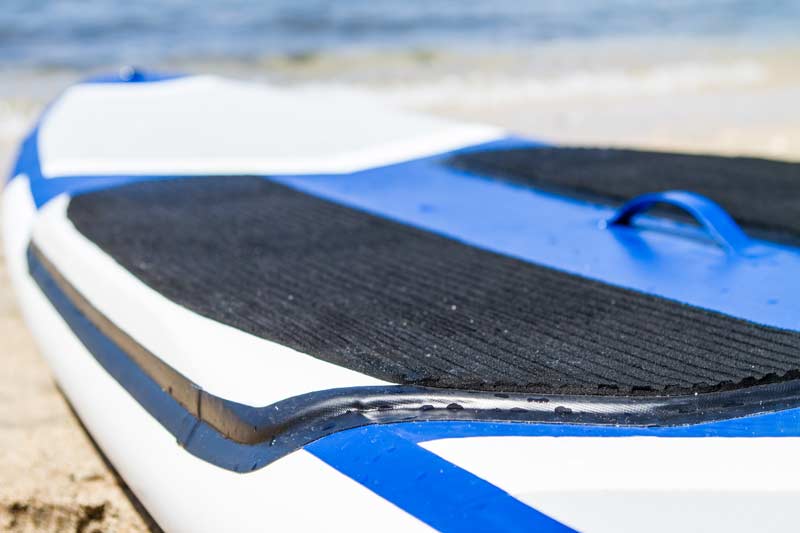 Important Features
There are a few features that are worth pointing out on the HardTop SUV.
1. Of course the first to mention are the RigiDeck™ EVA covered fiberglass steps which make the board extremely rigid under your feet.
2. There are D-rings and bungee cords at the front and back of the board.
These can be used to secure gear and accessories such as fishing gear, clothes, water bottle, dry bag, etc.
3. The large rear skeg helps the board to track straight.
4. The valves are premium one-way valves that make inflation very easy.
5. All of the Airis ISUP's come with a deluxe AirPack carrying bag.
The bag can easily hold your board, the pump, the repair kit and even your paddle. It's fairly comfortable to use and makes traveling with the board easy.
6. The hand pump that comes with the Airis boards is a two-way high-pressure pump.
It has an adjustable valve for high and low pressure pumping as well as a pressure gauge to check the inflation level.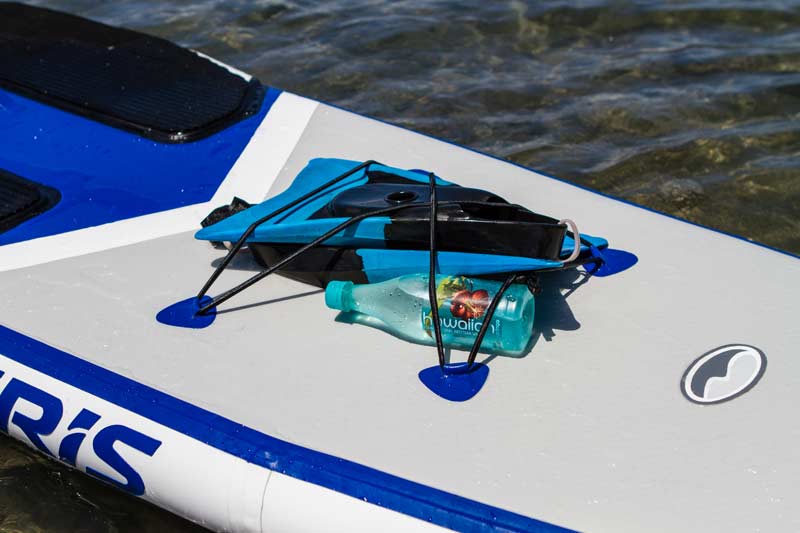 Convenience
Ultimately the HardTop SUV offers a convenient method of getting out on the water anywhere you want to go.
The convenience of owning and using an inflatable stand-up paddleboard is pretty cool.
The Down Side
The down side is that this board will not roll up quite as small as some of the other ISUP's out there because of the fiberglass plates.
It still rolls up into a compact package but it is just a slightly larger package than some others that are similar in size.
I also like to keep a board at 25 lbs. or under as I find it easier to carry.
This one weighs 26.5 lbs. and truthfully it makes very little difference compared to carrying a 25 lbs. board but it would be nice if it weighed just a few pounds less.
However it paddles well and is a nice board.
Final Thoughts
Overall I was impressed.  I have used it mostly on mountain lakes and ocean bays and found that it paddles well.  The price is decent and about what you'd expect it to be for a board of this quality.
The Airis SUP's are manufactured in North America which is a bonus as well.
Where to Buy
Click Here For The Airis 11' HardTop SUV Inflatable SUP From WalkerBay.com.
Click Here For The Airis 11′ HardTop SUV Inflatable SUP At Outdoorplay.com. – 5% off at checkout with coupon code IK3721