Airis Tandem Inflatable Kayak Review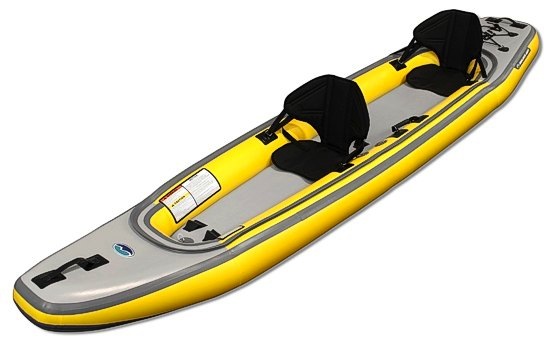 Best Uses: Flat water, lakes, ocean bays, fishing
Brand: Airis by Walker Bay
Number of Paddlers: 2 – can also be converted for solo use
Stats: Length 11'10", Width 31.5″, Weight 26 lbs., Load Capacity 450 lbs.
Accessories Included: Adjustable seat, Airpack deluxe backpack, large skeg, high-pressure hand pump with gauge, repair kit
Pros: Super rigid and strong material, stable, comes with great backpack carry bag, comfortable seats are adjustable for solo or tandem use, rear gear bungee cords to secure gear, D-rings for attaching accessories, splash guard to help keep water out, tracks well, decent speed with two people paddling, foot rests, very easy entry and exit, still very light weight for a tandem kayak, compact and easy to travel with, very rigid floor – helps with performance
Cons: Not super fast when only one person paddling (great with two), not as easy to turn and maneuver as the shorter Airis kayaks – but to be expected with a longer model
More In-Depth Info
I was excited to finally try out the newly redesigned Airis Tandem inflatable kayak. I had heard good things but wanted to check it out and get a feel for myself.
I knew the quality of the construction was top of the line and the overall features were pretty good…
grab handles at front and back as well as on each side for easy transport
bungee tie-down cords at the back to secure gear
D-rings for attaching accessories
foot rests for extra support
large attached skeg for better tracking
ample space for whatever you want to bring along with you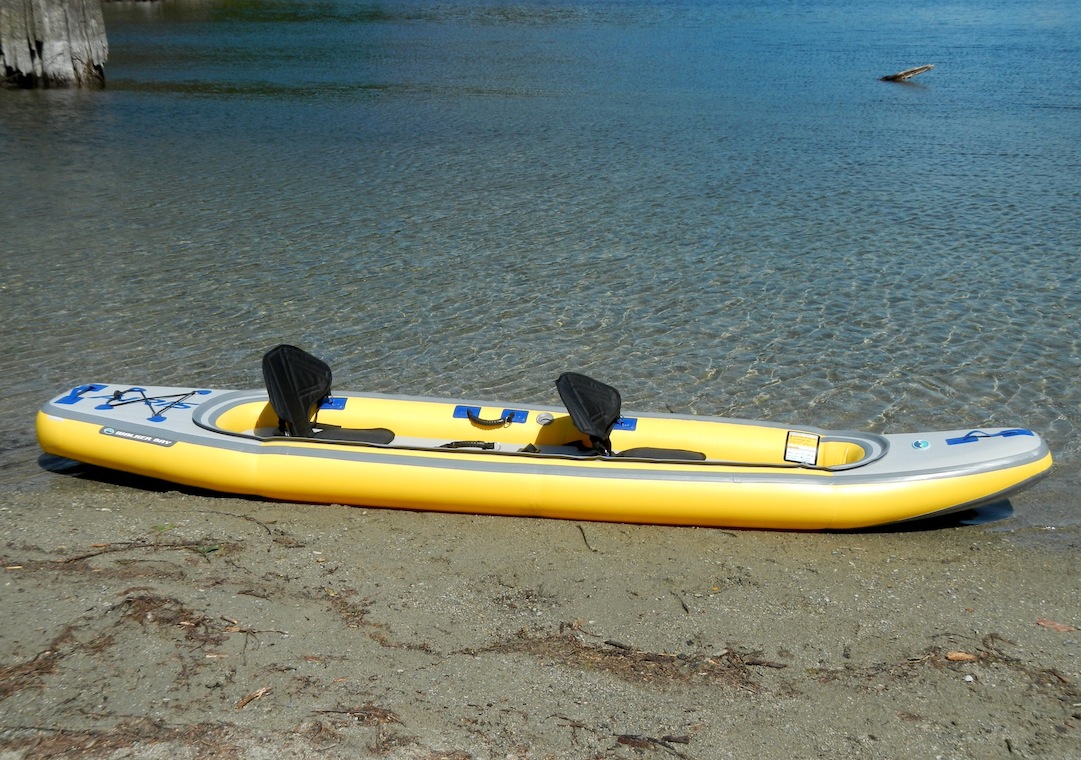 My initial impression when I first launched was that it was very comfortable and very stable. The seats offer great support and there is lots of leg room.  I even stood up and the floor was rigid enough and it was stable enough to stand-up paddle.
The Airis kayaks have a slightly more 'sit-on-top' feel to them than many other inflatable kayaks. Their pontoon sides are a little lower than many other models which makes paddling quite easy.
There is no rubbing on your arms or extra reach needed as is sometimes necessary when the pontoon sides are really wide with other inflatable kayaks.
Consequently, paddling is a lot of fun. I adjusted the seats to paddle solo at first and of course had to work a bit harder to get it moving as I was dealing with a fairly long kayak and only my strength. Once I got moving along however it glided beautifully. Paddling with a partner was very smooth and easy.
The ride was nice and I found it ideal for paddling on mountain lakes as well as on ocean bays.
Personally I wouldn't be too enthused about taking it down a river. The longer length gives it a nice glide but makes it harder to maneuver quickly so probably not the best for river paddling.
Set-Up
Even with the length of this kayak the setup is truly only about 5 minutes. There are 3 main air chambers to pump air into, one for the floor and one for the front and back of the kayak.
It is always a good thing when an inflatable has 3 air chambers as this makes it a much safer vessel. If there is ever a tear or a leak in one air chamber you still have two others that will safely get you back to shore.
The high-pressure hand pump that comes with all the Airis kayaks is one of the best I've seen. I'm not normally a fan of hand pumps but this one is unique in that it has a switch that allows you to change it from regular inflation mode to high-pressure mode.
You use the regular inflation mode for the majority of the pumping and when it gets too hard to pump any more you switch the dial to high inflation mode and it gets easier to pump a few more short bursts of air in order to make sure the kayak is as rigid as possible. It works really well.
Once inflated you can attach the seats and your off. Very fast, very easy.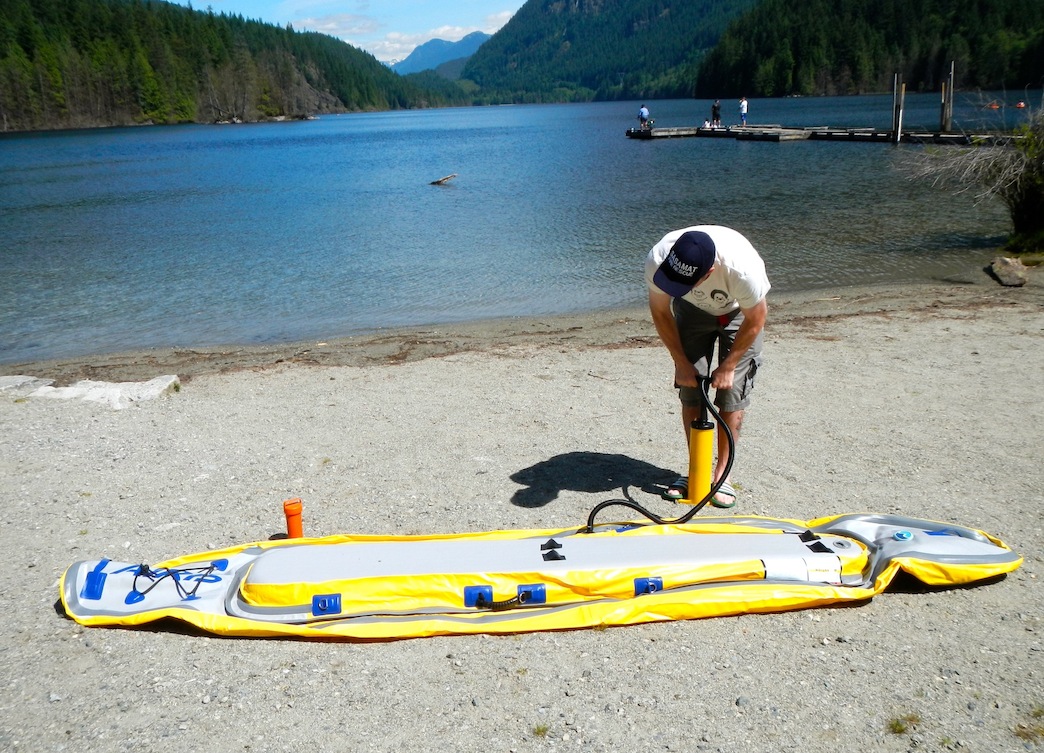 Quality of Construction
The Airis kayaks are fairly unique as far as inflatable's go. They use something called AirWeb High Pressure Patented Construction which forms a heavy duty, seven layer polymer coated fabric that is joined by thousands of drop-stitch fibers.
What that basically means is that this product is not only extremely rigid which is what you want in an inflatable kayak but also very durable. The material is tear and abrasion resistant as well as very light weight.
The quality is top of the line but because these kayaks are manufactured in North America, the price is still affordable. You are getting a top quality product for an excellent price.
Versatility
The Airis Tandem is a nice option for three specific groups of people…
Those who want the option to paddle with a partner but also be able to paddle the same kayak solo at times
Those who are slightly bigger and want a kayak with extra room for comfort and maneuverability
Those who love to fish or want extra room for gear and expeditions
The Tandem is quite long at 11′ 10″ and there is tons of room in this kayak. It is ideal for tandem paddling as both people will have ample leg room. It is also ideal for bringing along a dog – even with two people in it.
However if you want to paddle solo, you can remove one of the seats and secure the other seat to the middle D-rings to make it a nice long solo kayak.
Larger people will appreciate the extra width and space and might prefer paddling this kayak solo as compared to the other Airis models.
The extra room means extra space for fishing gear, camping gear or anything else you might want to bring along.
It is a versatile kayak that can handle a lot of different situations.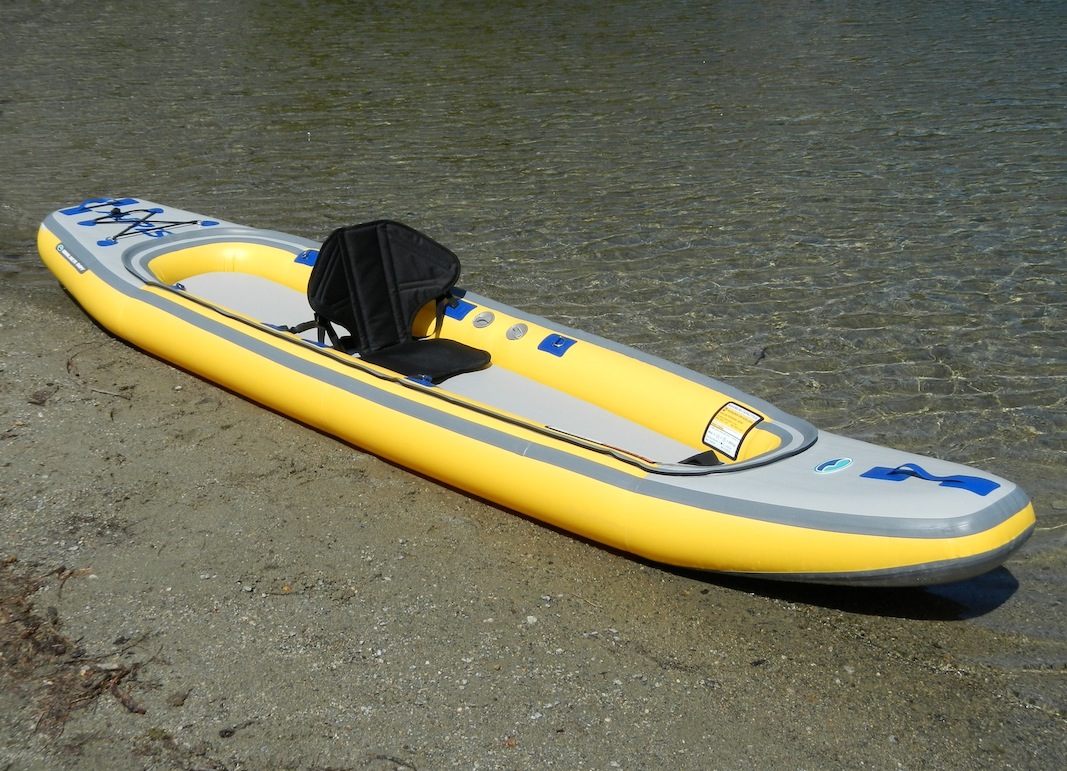 Weight and Size
The light weight for this tandem model is quite impressive. 26 lbs. is very easy for 2 people to carry and even manageable for one.
It rolls up into a very compact size and stores easily inside the included backpack. The backpack can be transported in the trunk of your vehicle, in an RV, on a larger boat or even taken on an airplane.
The size and weight make it easy to bring anywhere as well as store away.
Performance
The performance is fairly impressive. This kayak was not necessarily designed for speed but with two people paddling, it glides nicely through the water and can get moving pretty good.
It is not that fast as a solo model but that is to be expected. It still paddles well.
The large attached skeg really helps with the tracking and I found it quite easy to keep going straight.
The skeg is attached so this kayak is best suited for lakes or ocean bays. If you want to paddle down a river make sure the river is deep enough that the skeg won't get caught on anything or banged against rocks.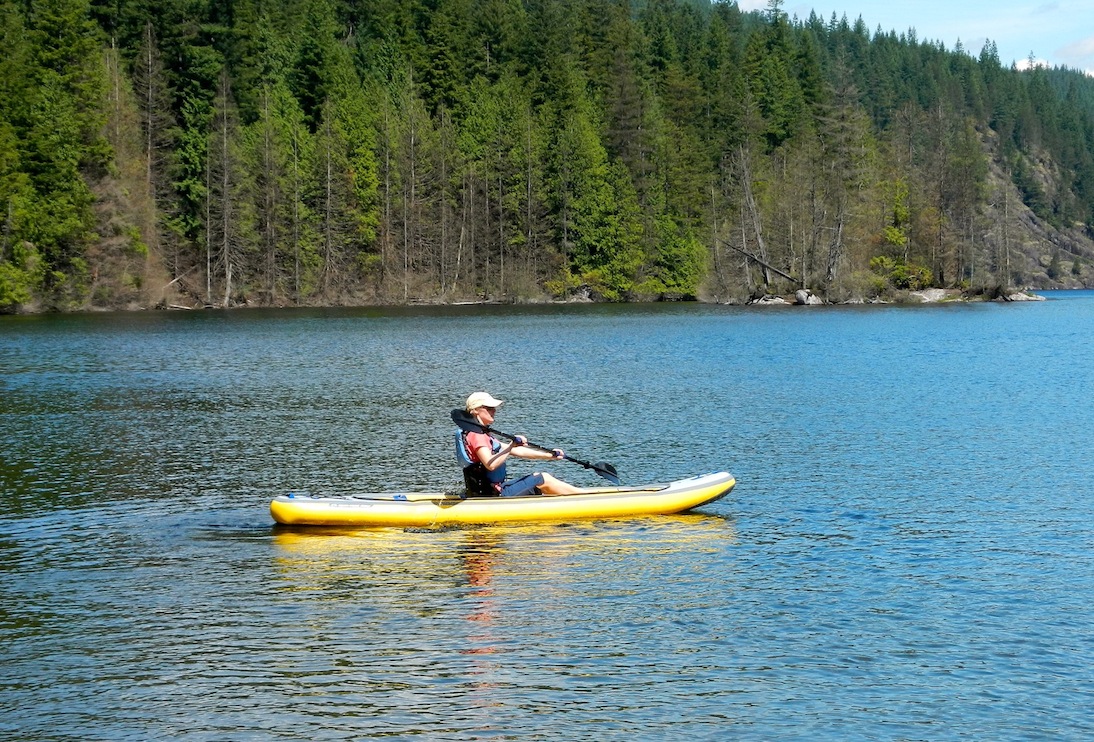 Deluxe Backpack
The Deluxe Backpack is awesome! I think Airis has the best carry bag out there for their kayaks. The design is fantastic… padded shoulder straps, enough room for your kayak, your pump and even your paddle as well as a front pocket for any extras.
It feels comfortable on your back and is very rugged. I can't say enough about how much I love their backpack. It makes transporting the kayak easier than ever.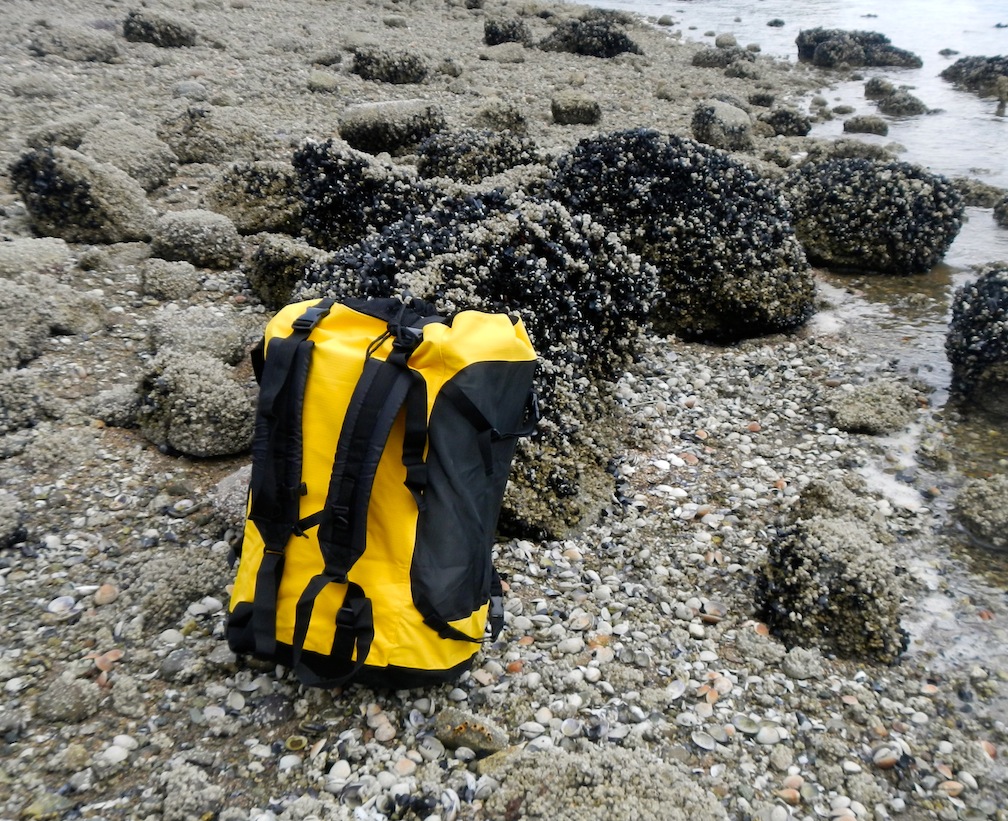 My Video
My Pictures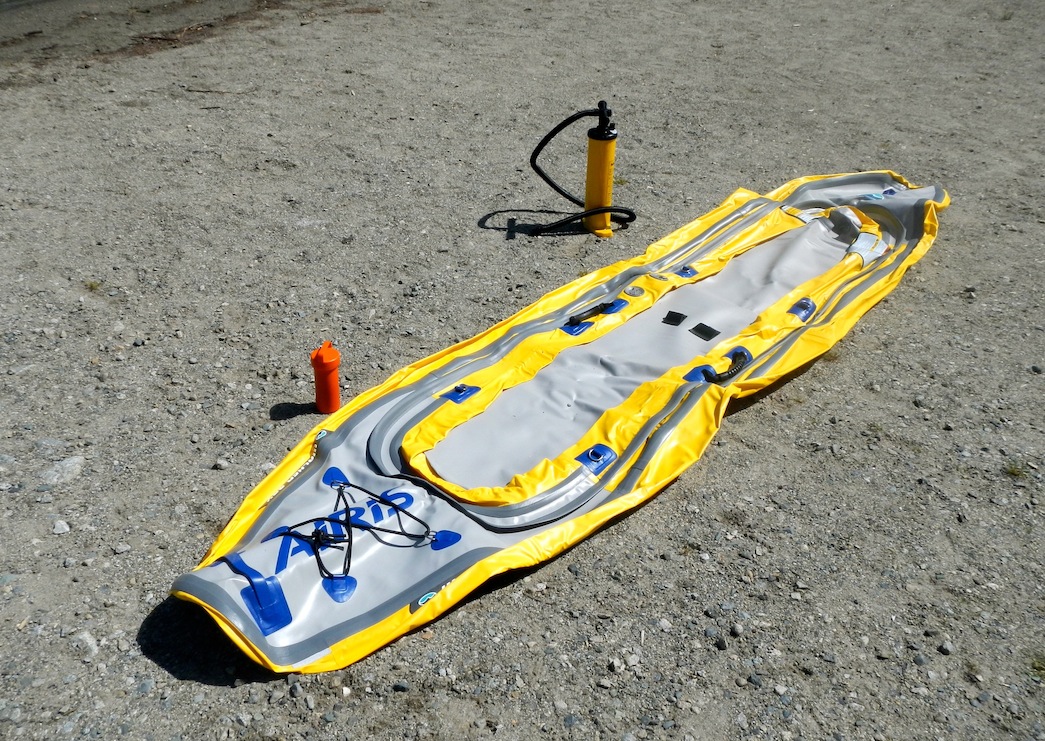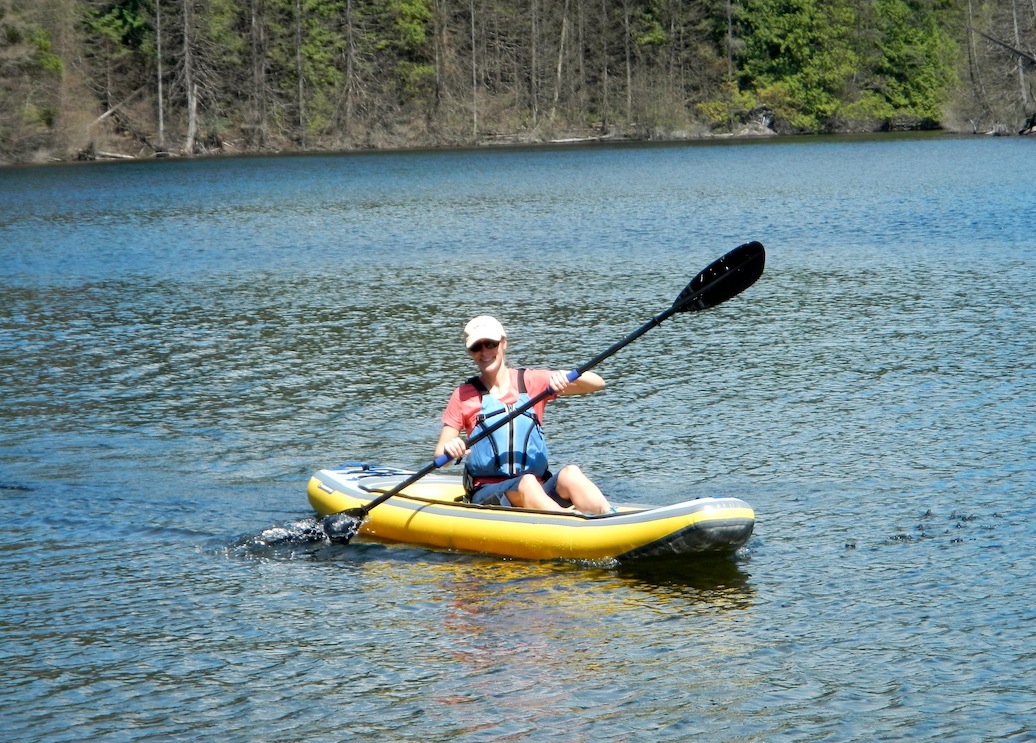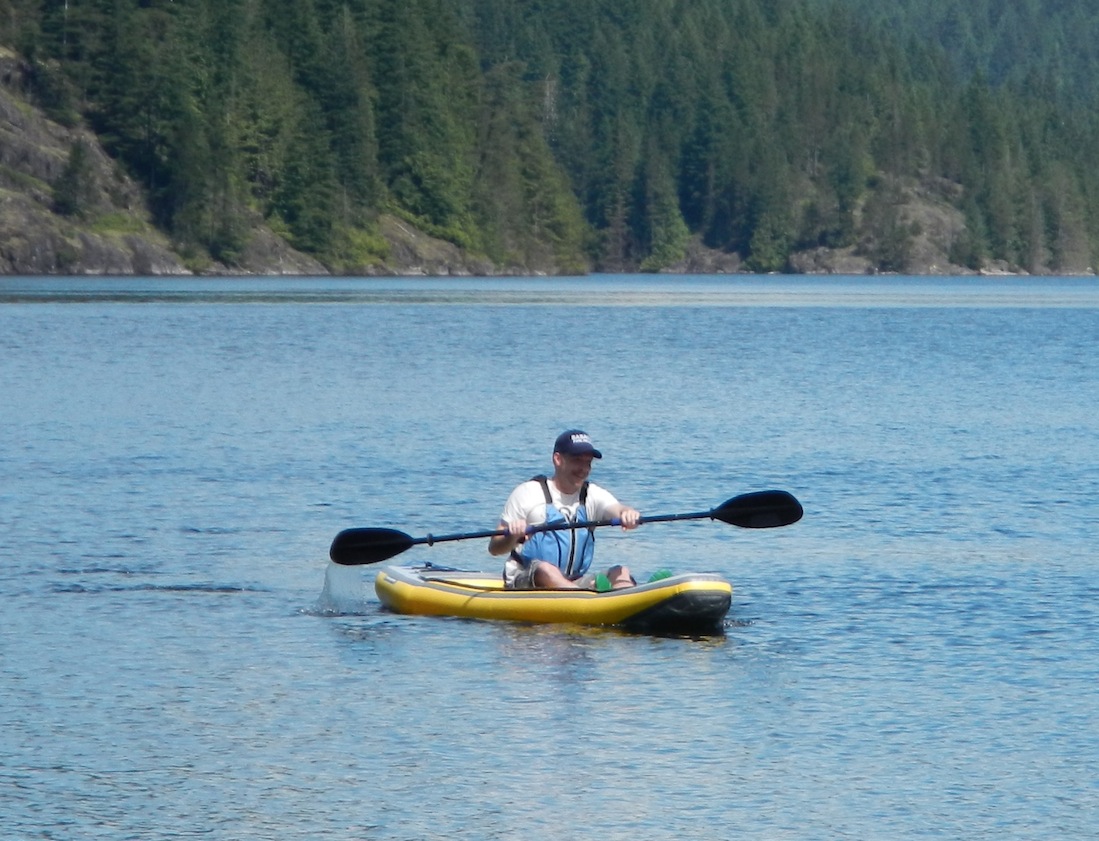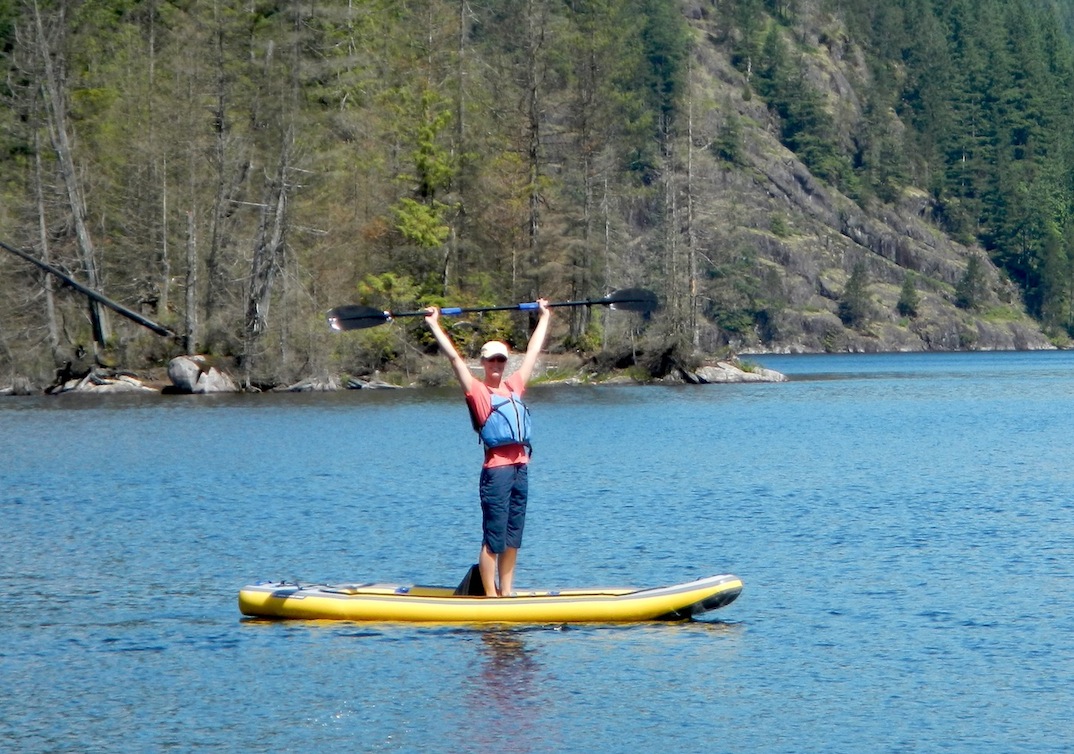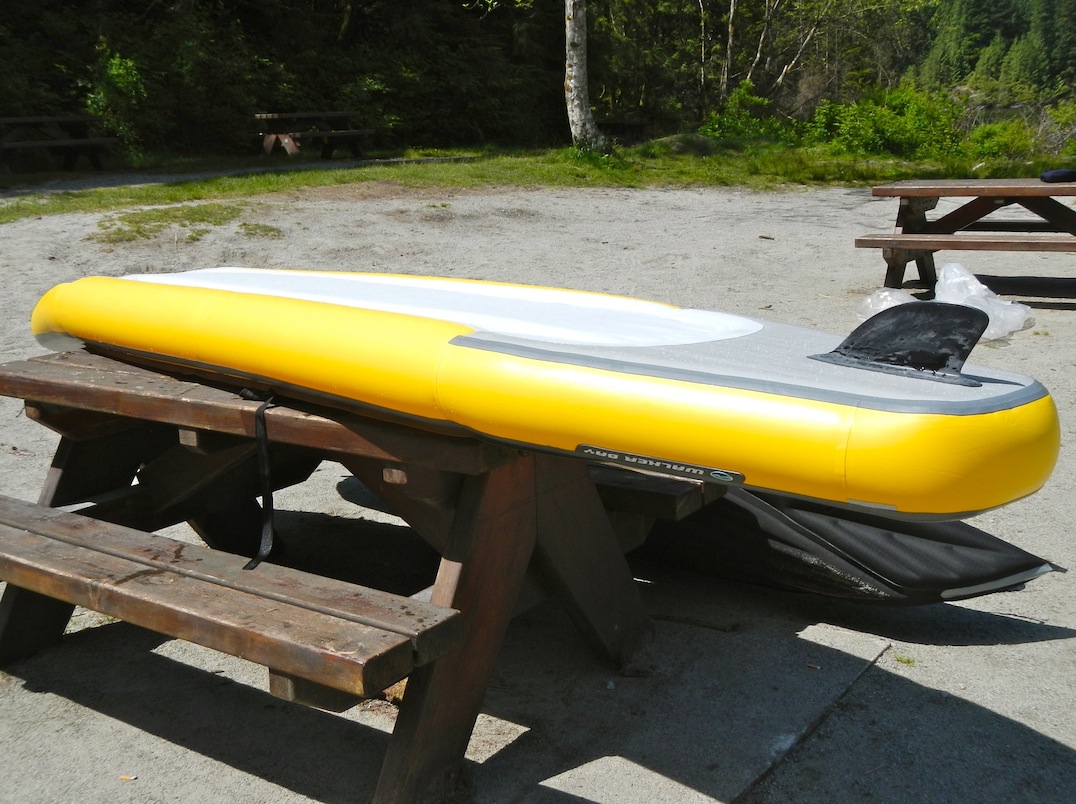 Final Thoughts
Overall I would say the Airis Tandem is a great buy. The price is excellent for the quality of product you are getting. It is comfortable and easy to paddle and has a unique and stylish design.
This would make a great recreational kayak and is perfect for those who want to travel with a tandem model without having to worry about it being heavy and annoying.
The construction is strong and resilient and with a little care it will last a very long time. I have no hesitation in recommending this model.