Airis Sport Inflatable Kayak Review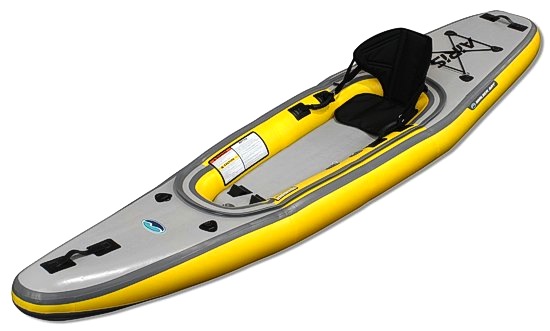 Best Uses: Flat water, touring, ocean bays, slow rivers
Brand: Airis by Walker Bay
Number of Paddlers: 1
Stats: Length 10'10", Width 31″, Weight 20 lbs., Load Capacity 250 lbs.
Accessories Included: Adjustable seat, large rear skeg, high-pressure air pump with gauge, deluxe AirPack backpack, repair kit
Pros: Stable, tracks well, good speed, glides nicely through the water, easy to maneuver, light weight and compact, storage bungee cords at rear for securing gear, D-ring for attaching accessories, 4 great carrying handle (front, back and each side), deluxe backpack to easily carry this kayak on your back, very strong and rigid material, easy and fast to inflate
Cons: Could use a little extra storage space – this kayak is best suited for day trips only, you may get a little extra wet in this kayak as water can sometimes get inside with the lower profile
More In-Depth Info
The Airis Sport is my favorite of the three Airis kayak models. It not only paddles well but it is extremely light weight and compact making it ultra portable.
It offers convenience, quality and performance all wrapped into a nice compact package.
What I love most about the Sport is the fact that it is just so easy in every way.
I can carry it in a large backpack (backpack carry bag comes with the kayak)
I can inflate it in under five minutes
I can take it anywhere because it weighs so little
I can store it in a closet or in a small space as it takes up very little room
I can paddle until my hearts content because it is so easy and fun to paddle
I like this kayak a lot and I think it is ideal for a large range of people.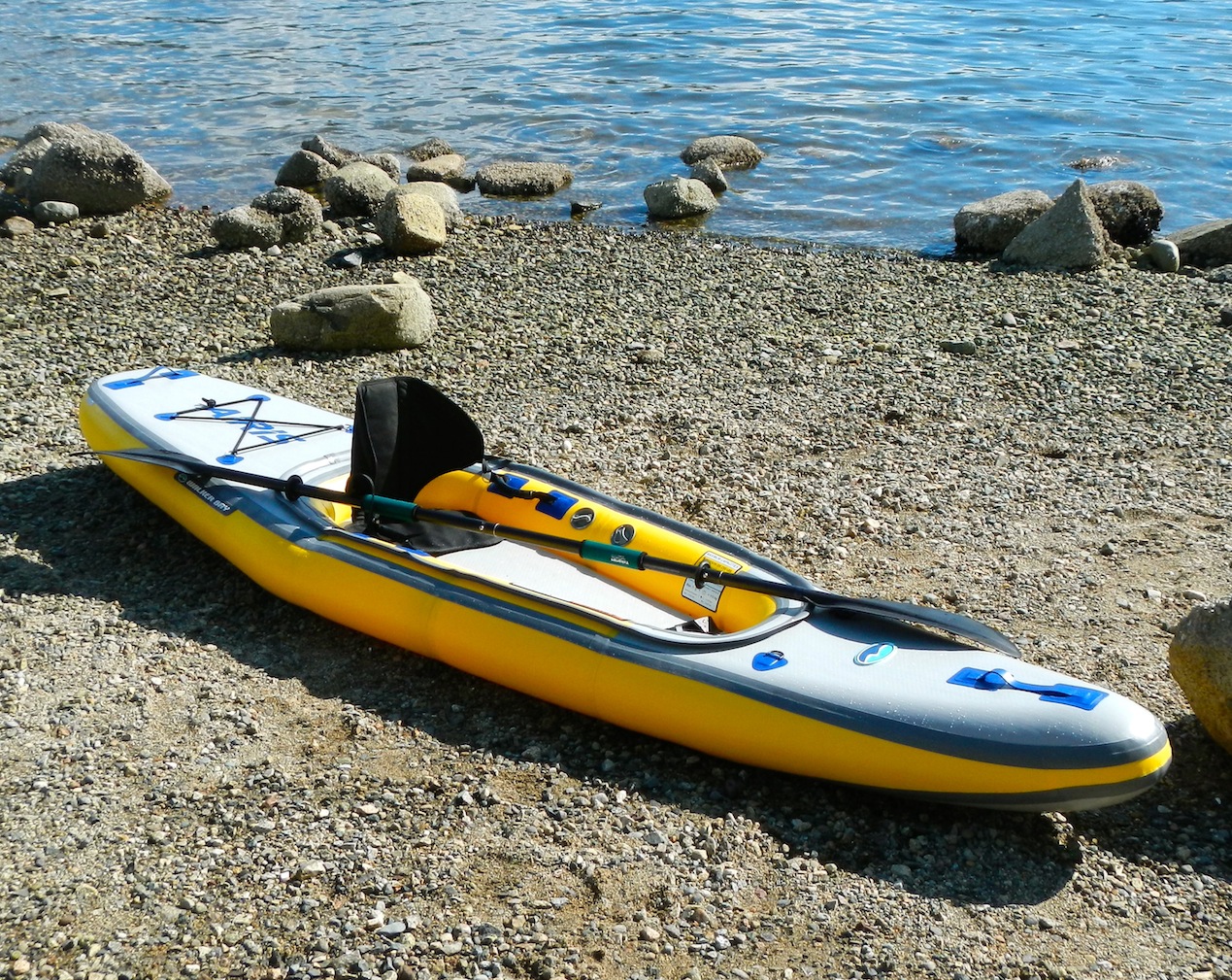 Set-Up
As far as set-up goes, simply take the kayak out of the backpack, lay it out flat, then inflate the three main air chambers. Attach the seat and away you go.
Once you've done it a couple times it will take you no more than 5 minutes. The skeg is already attached and after using it once you could even leave the seat attached.
Start with inflating the floor first.  Then do each side.  Sometimes you will need to push the floor down so that it is positioned properly between the two sides for maximum stability.  Just push down on the floor with your hands or your foot and it will go into place.
Once you are done paddling dump any water out, dry it off, deflate it, roll it up and store back inside the backpack.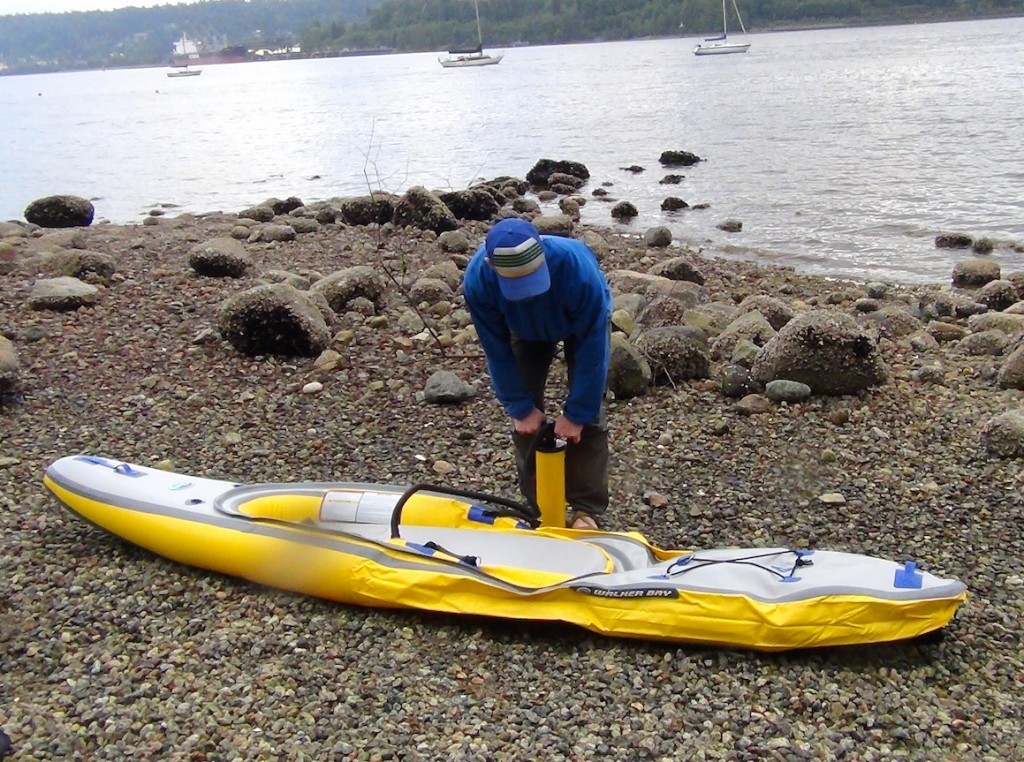 My Experience with the Airis Sport
I knew the older Airis kayaks gave a decent performance but I have to admit that the Sport impressed me more than I expected. It glides really well through the water and tracks quite straight.
It just feels easy to paddle and maneuver and although it is not the fastest kayak out there I do feel like it zips along pretty good.
The large attached skeg helps with the tracking as do the overall length and width of the kayak and the super rigid floor help as well.
You sit up a little higher in the Airis kayaks and it makes for a very easy paddling experience. There is no rubbing of the arms on the side of the boat as you sometimes get with kayaks that have larger and higher pontoon sides.
Sitting up higher is a different feeling and it doesn't necessarily have that "authentic" kayak feel.  However you get used to it and the overall ease of paddling is really nice.
The foot pegs allow you to brace your feet on something for added support and there is ample leg room.
I think the Sport is best suited for day trips as there is not a huge amount of storage room.
There are the bungee tie down cords at the back that can be used for securing a dry bag and you could always store some gear up front. However the space is limited.
Also worth noting that there is no covered area for storing gear so anything you have on board will get wet.  Definitely store your essentials in a dry bag to keep them safe.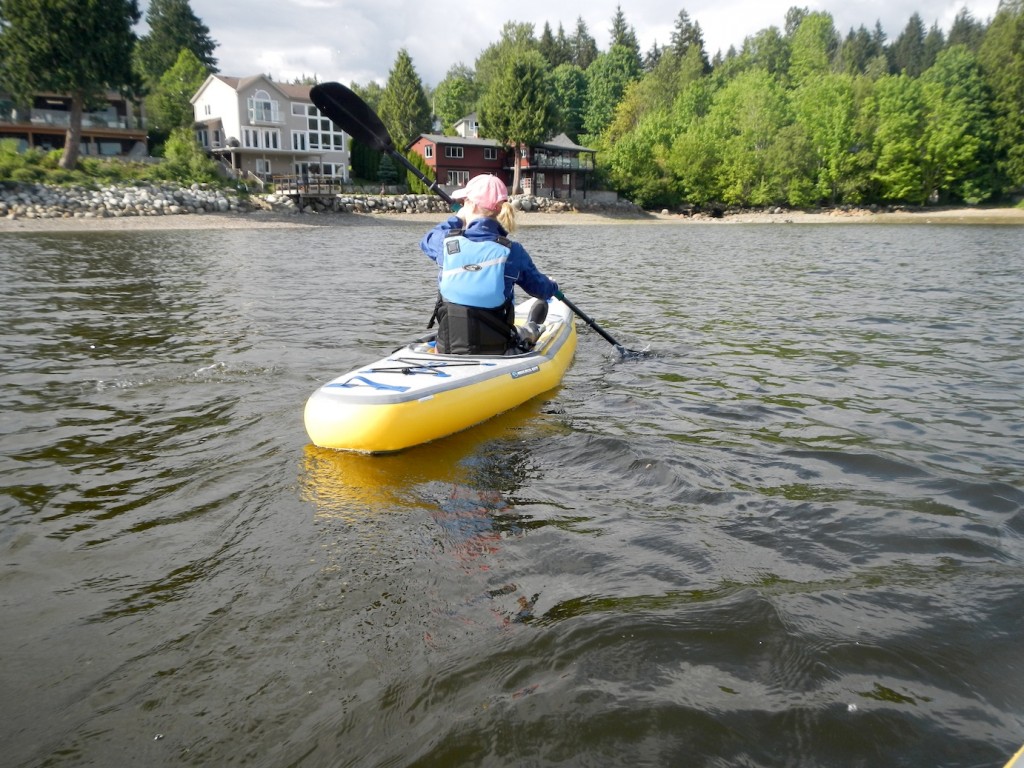 Quality of Construction
As mentioned in the other Airis kayak reviews, the quality of construction is excellent. These kayaks inflate to an extremely rigid air pressure.
They are made using AirWeb Patented high pressure construction, formed from heavy duty, seven layer polymer coated fabric that is joined by thousands of drop-stitch fibers.
They are tear and abrasion resistant and extremely durable.
Once inflated you will be shocked and probably very pleasantly surprised how rigid the Sport is. It is very solid and well made.
Although I have had issues with the stitching coming apart on their backpack carry bags, I have never had an issue with their kayaks in general.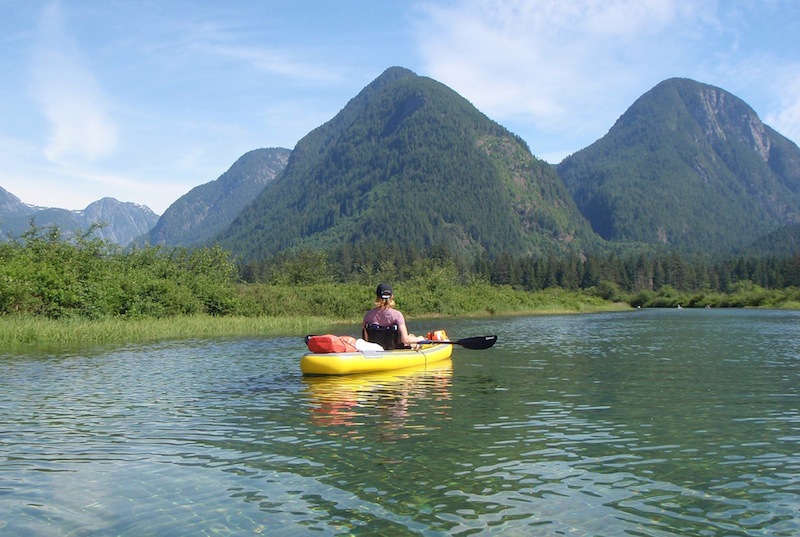 Size and Weight
One of the great things about the Sport is that it has the length needed to excel on the water but is still extremely light weight.
When deflated and rolled up it makes a super compact package. You can easily carry it on your back although depending on your strength you may not want to hike up a mountain with it!
At twenty pounds it is no problem to carry it short distances to the water.
When the Sport is inflated it is also easy to carry it yourself with one arm making this an easy kayak to take out solo.
The light weight makes it ideal for traveling and simple to take anywhere.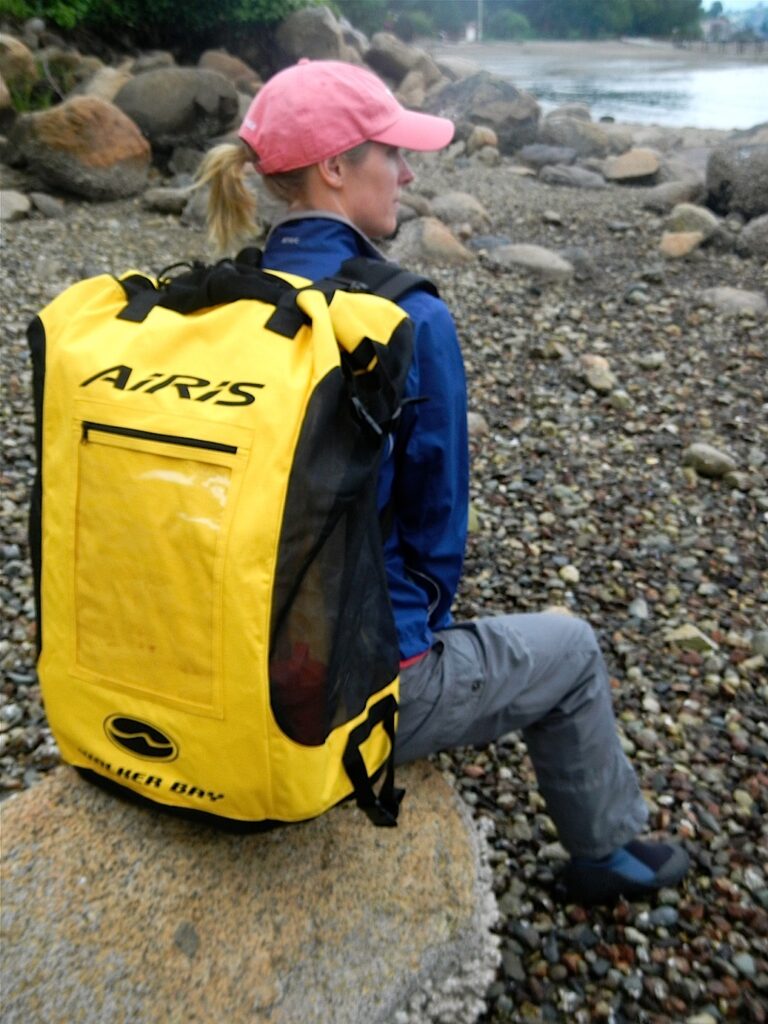 Deluxe Backpack
The backpack that comes with the Airis Sport easily fits the kayak inside when deflated and rolled up properly as well as the repair kit and pump.
It has padded shoulder straps and a front pocket for extra essentials.  There is a draw cord on top to cinch it closed and two clips to secure it.  There are also clips on the side to attach your paddle.
I like the backpack and it works well.  However I have had issues with the stitching on the shoulder straps coming apart and with the clips tearing off, which was disappointing.  I would say it is not as well made as the kayak itself.
Comfort and Storage
Overall I find the Sport to be very comfortable. The seat is adjustable and offers decent back support.
There is a fair amount of leg room up front and even someone over 6′ tall would have no problem stretching out.   The small foot rests are also a nice added feature.
You can store some gear under the bungee tie down cords at the back of the kayak and more up front if needed. There is not a huge amount of space for storage as mentioned before but enough for any type of day trip.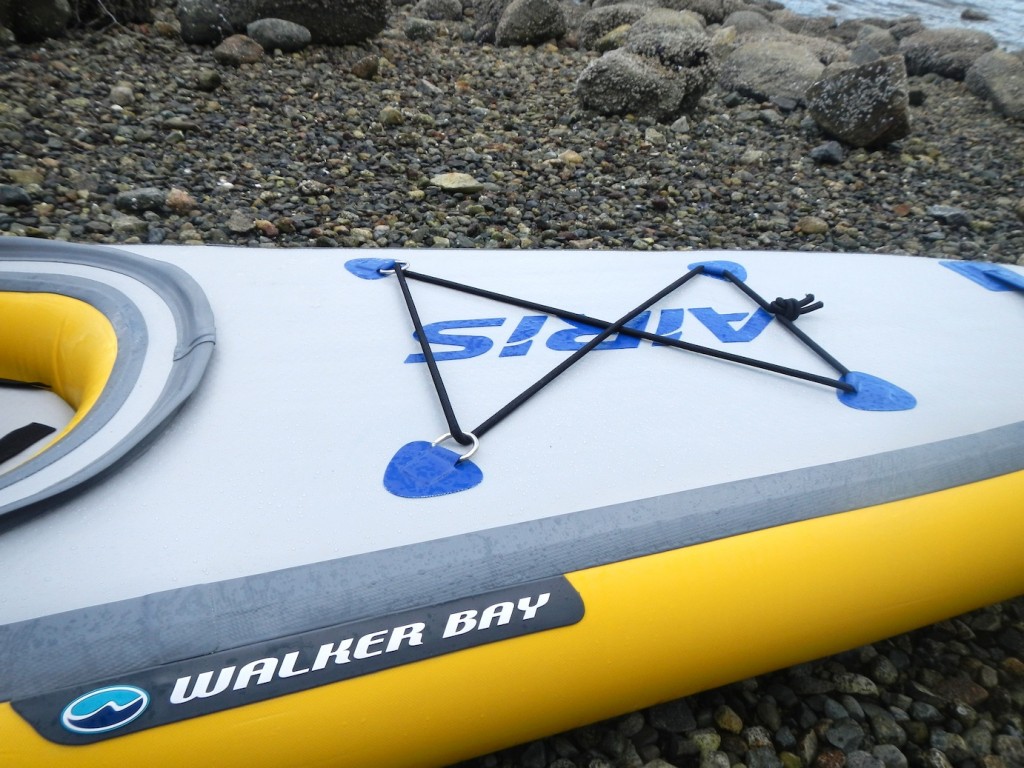 My Video
My Pictures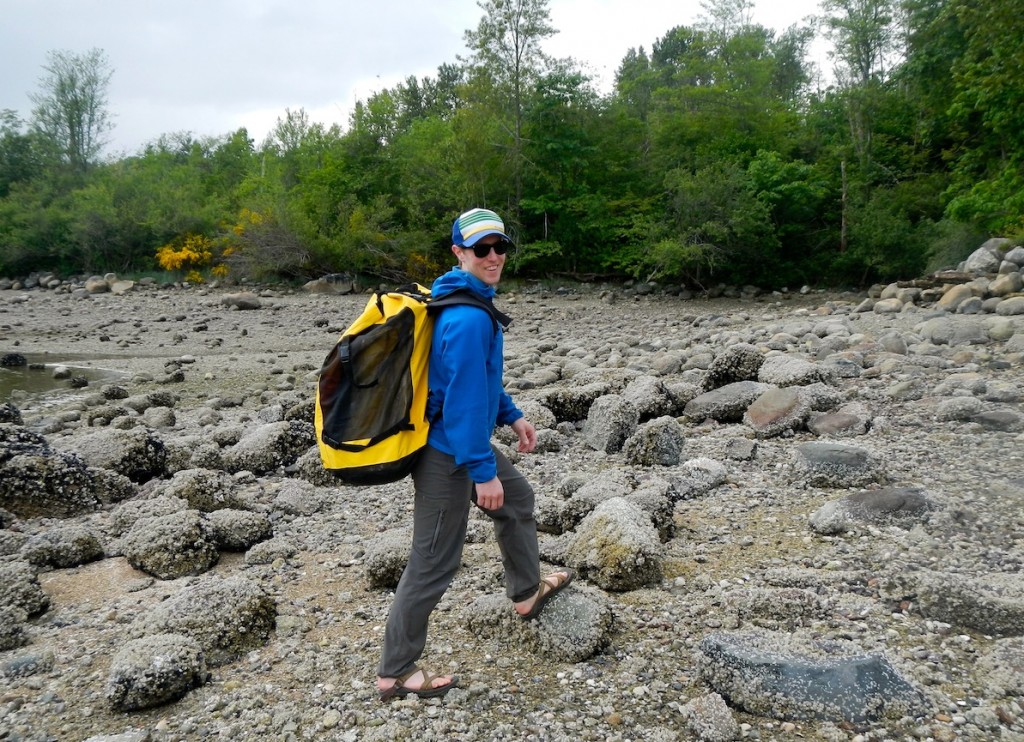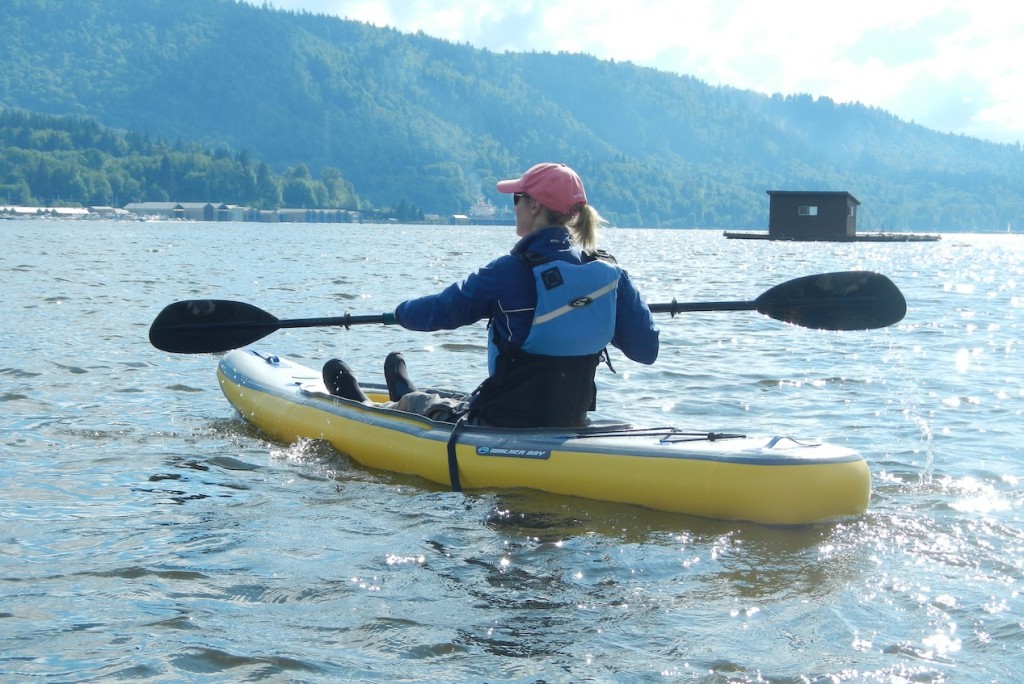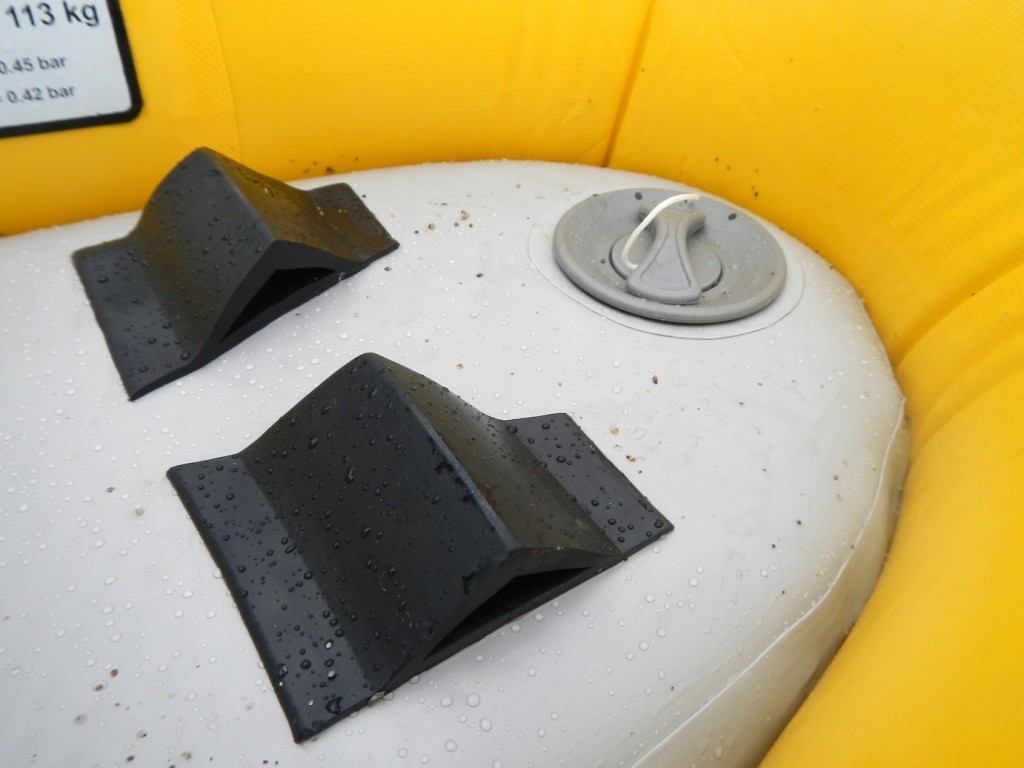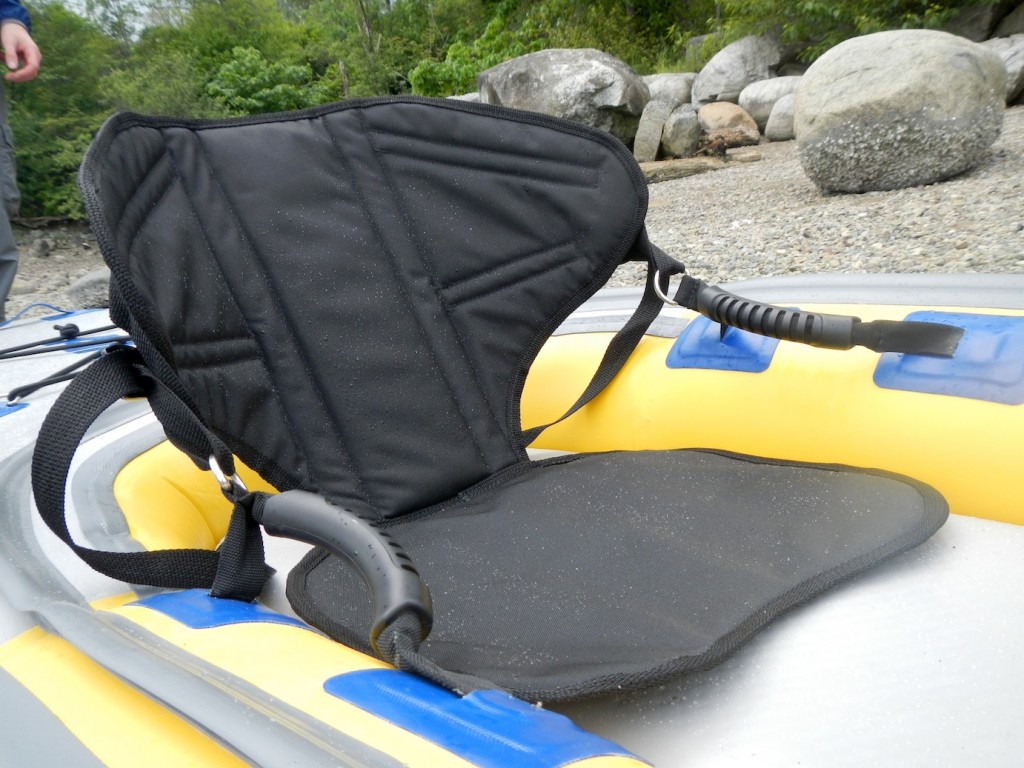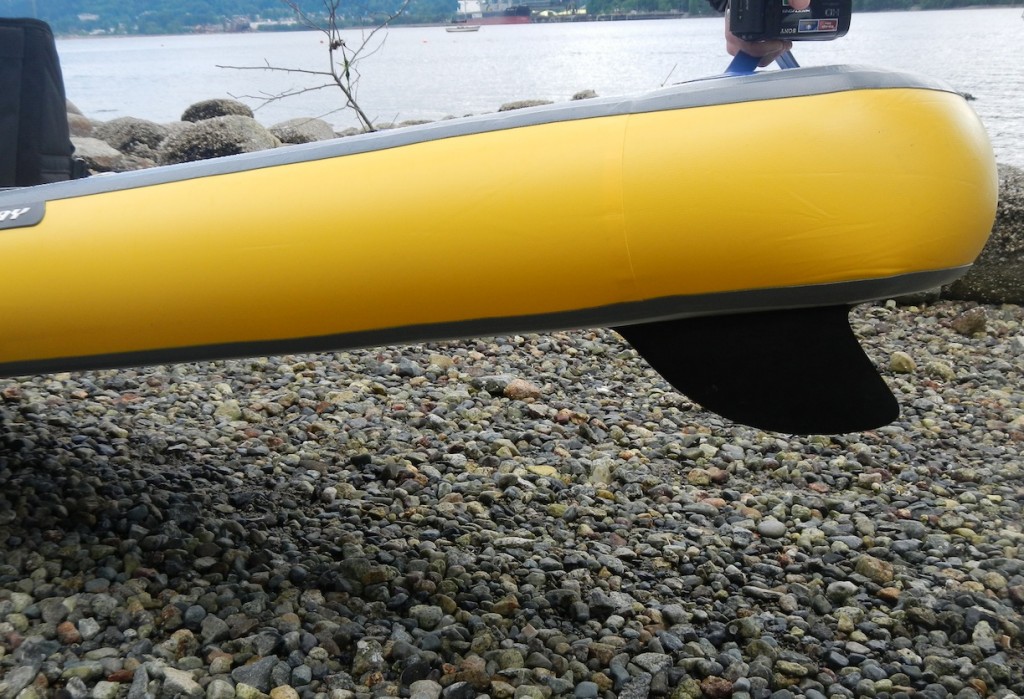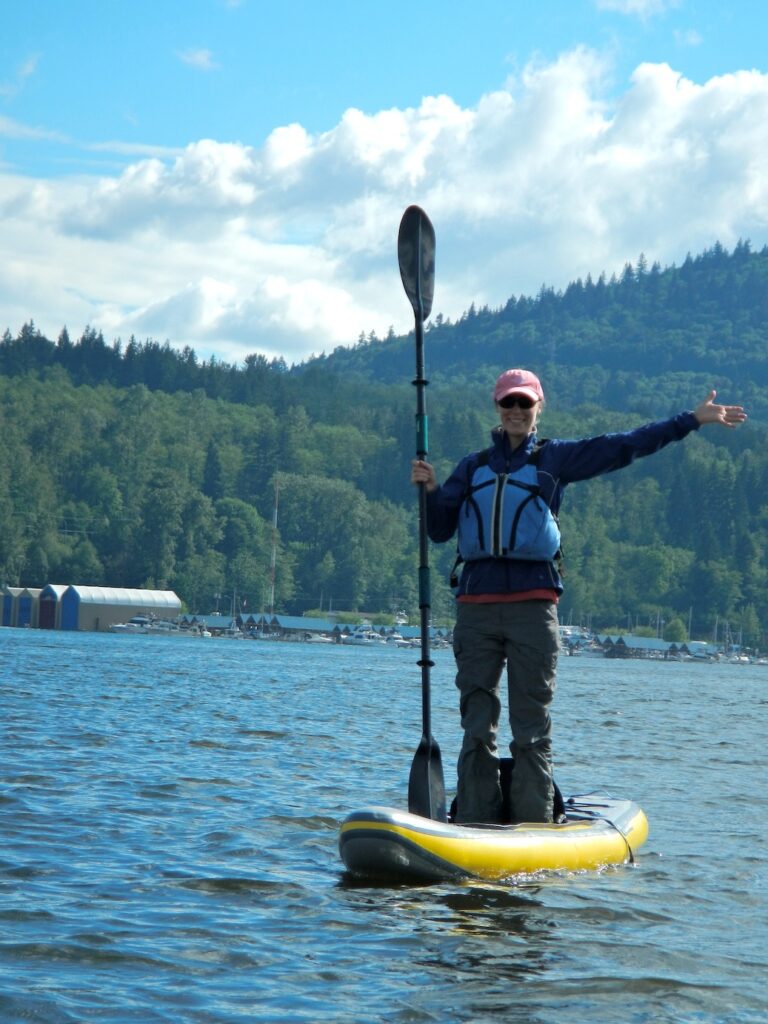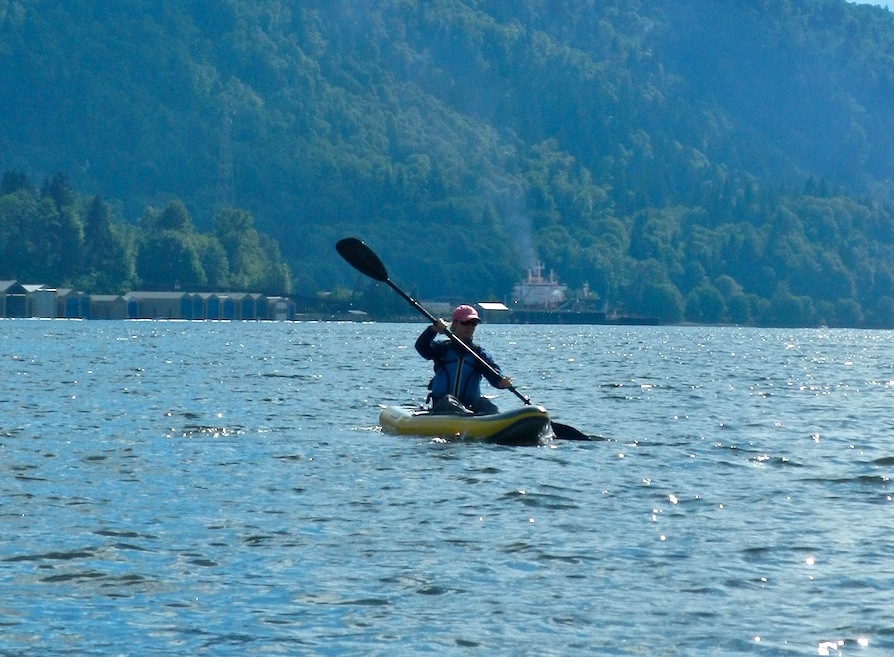 Final Thoughts
I own the Sport myself and have used it a LOT.  I have also lent it to many friends and family members and everyone seems to enjoy it.
It is one of the most portable and convenient solo inflatable kayaks on the market.  Although not perfect, it is worth the money and ultimately gives you a super convenient way to get on the water.
You may get a little extra wet in this kayak but plan for the weather and water and you'll be fine.  It has never been a big issue for me.
The Sport is an ideal choice for anyone looking for a light weight model that still excels on the water.