ISUP Review: Airis 9' HardTop Stubby SUP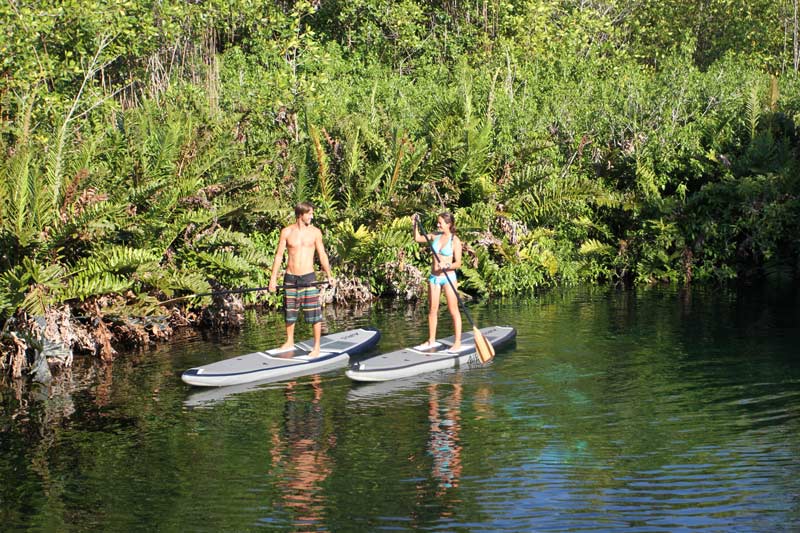 The Airis 9' HardTop Stubby is the ideal board for traveling, rivers, surf and flat water cruising.
Don't let the shorter 9' length fool you. This board rocks and is extremely easy to maneuver and paddle.
It is super stable, extremely rigid and well made. It is a lot of fun to use and would suit a smaller person, kids, or someone who wants a super compact board that can still hold a lot of weight.
Quick Stats
Specs
9 feet long
31 inches wide
6 inches thick
can hold up to 225 lbs.
has one large rear skeg
Material: This ISUP uses the Walker Bay patented AirWeb construction which makes for a very stiff board.
Pros: Stable, rigid, high quality construction, light weight and easy to take anywhere, rear fin for better tracking, unique fiberglass steps to stand on, functional backpack/carry bag, bungee tie down cords up front for securing gear
Cons: Not as fast as the longer boards – to be expected, the fiberglass steps make this board just slightly bulkier when deflated and rolled up.
More In-Depth Info
The 9' Stubby is ideal for several groups of people…
Those who want to paddle down rivers
Those who want the ultimate compact and convenient board for traveling
Shorter people or even kids
Those who want to take their board in surf
Even though the Hardtop Stubby in my opinion is better suited for rivers and surf, it also has a large rear fin that helps it track well in flat water.
I would not hesitate to take this board on a lake or even in ocean bays.
The Stubby only weighs 20 lbs. and rolls up into a very compact package. It would be very easy to take this board on an airplane or anywhere you want to go.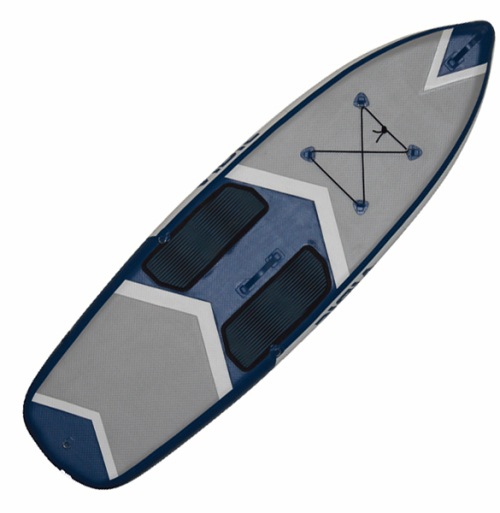 Set-Up
The compact size makes setting up the Stubby a snap.
Simply take it out of its carry bag, unroll, inflate and away you go. I would say in total it takes about 5 minutes.
The Airis ISUP's come with a great high-pressure pump that allows you to inflate the board so that it is extremely rigid.
Although I personally prefer using an electric pump, this hand pump works quite well.
Quality of Construction
The Airis inflatable SUP boards are constructed using Walker Bay's Airis high-pressure construction. Walker Bay is a well-known rigid hull inflatable boat company and 'Airis' is their line of inflatable kayaks and inflatable stand-up paddleboards.
They claim that their patented AirWeb construction creates the most rigid inflatable SUP in the world.
When these boards are inflated properly they do feel very rigid.
The material is tear and abrasion resistant and with a little care they will last a very long time.
The best part is that because these boards are manufactured in North America, you are getting a very high quality product for an excellent price.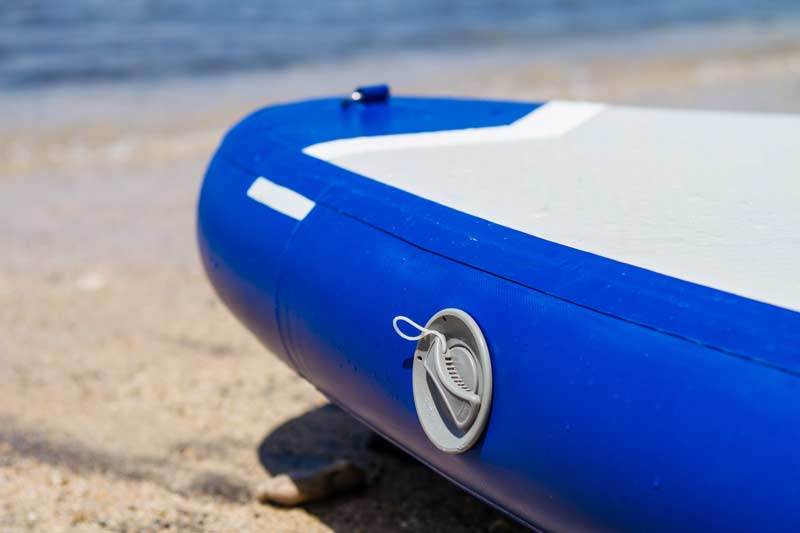 Performance
There are four main factors that I think contribute to the great performance of the Stubby.
1. Rigid Construction – As mentioned before the construction is solid. A rigid board is always going to perform better as there will be no flex or dragging.
The rigid construction makes for a solid performance.
2. Fiberglass Steps – This board is totally unique in that it has EVA covered fiberglass steps to stand on.  The fiberglass steps give the board that extra rigidity to really make it excel.
3. Large Rear Skeg – The rear skeg is a nice feature as it really helps the Stubby to track well in flat water.
Even though this board is shorter in length it will still paddle well on lakes and ocean bays… as well as be a lot of fun to maneuver.
4. 6" Thickness – The advantage of a 6" board is that it can support a lot more weight and still perform well. You will find it has no flex in the middle and is extremely stable.
Shorter boards are known to be more 'tippy'. However the extra thickness of the Stubby makes it very stable while still being able to turn and maneuver easily.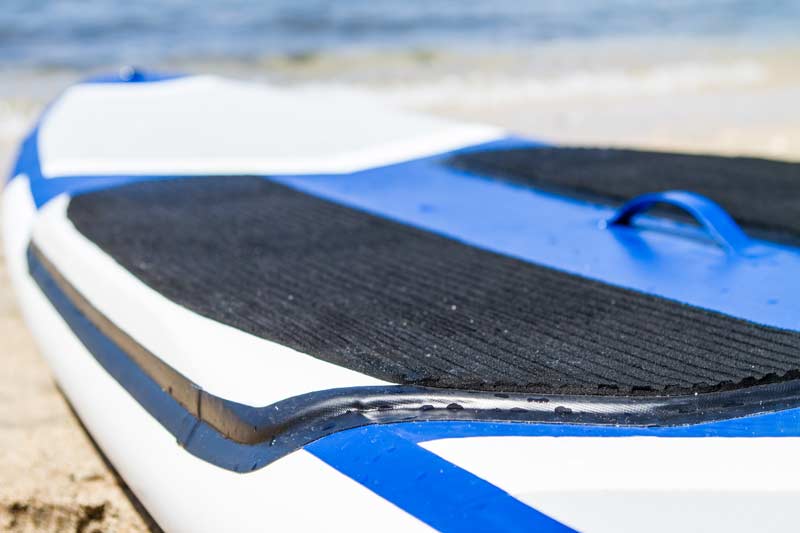 Important Features
There are several features that contribute to the HardTop Stubby being a good buy.
The AirWeb patented construction as mentioned before is a big highlight and makes for a high quality and solid ISUP
The 6" construction provides extra support and stability
There are D-rings and front bungee cords for securing gear, water bottle, etc.
It has premium one-way valves that make inflation and deflation easy
Comes with a high-pressure hand-pump which includes an adjustable valve for two way pumping and a pressure gauge
Comes with a backpack/carry bag that makes it easy to bring anywhere.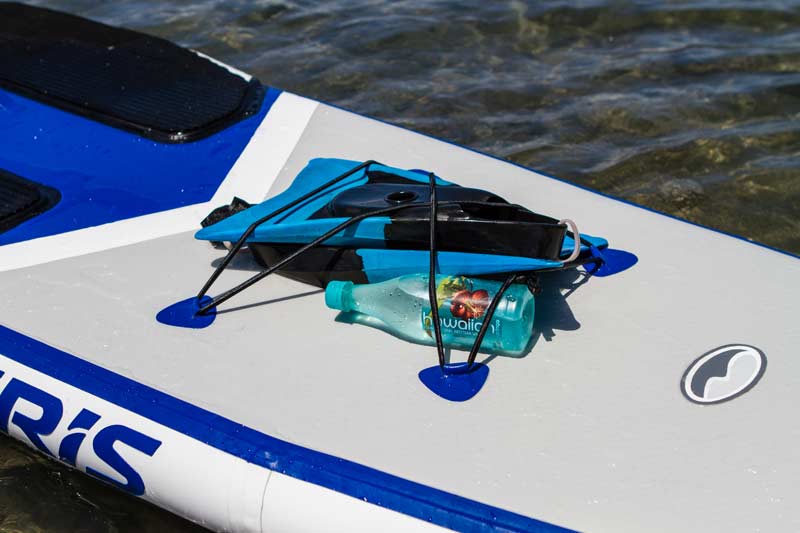 Convenience
The great thing about inflatable stand-up paddleboards is that they are extremely convenient.
You can transport them in the trunk of your car, bring them on a larger boat, in your RV or even on an airplane. You can take them anywhere because they are so easily portable.
A smaller board is even easier to bring absolutely anywhere.  You can also store inflatable SUP boards in a closet or in any small space.
It is very stable so great for any person of any age to use and because it is inflatable it does not hurt as much if you should fall.
The Downside
The downside is typical of any board under 10' long. It does not get the same speed when paddling.
For this reason, the Stubby is not considered a touring board. However for recreational fun, it is awesome.
I also find that although the fiberglass steps are a cool feature they do get in the way a little when rolling this board up and storing it away.
However once you get the hang of rolling this board back up when deflated, it's not such a big deal.
Final Thoughts
The 9' Stubby is 6" thick and well made. For this reason any person of any size can enjoy the advantages of paddling a shorter board while still getting the same support and stability needed.
This is a great option for someone who wants a shorter board that can hold a fair amount of weight.